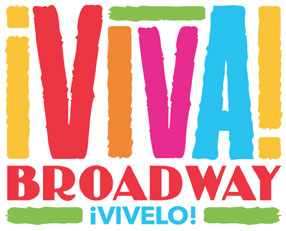 The Broadway League has created Viva Broadway, a new audience development partnership with the Hispanic community, to help bridge the world of Broadway with Latino audiences around the country.
The most burgeoning growth demographic, Hispanics comprise 5.5 million of the population in the NY/NJ tri-state area and over 50 million in the U.S. and growing. However, this vibrant audience is not represented in a similar proportion in attendance on Broadway in NYC and across the country.

The long-term initiative aims to increase awareness about Broadway while culturally enriching lives, bringing families together, and building new careers in the theatre. We have formed a National Advisory Board of industry and cultural notables to help strategize and spread the word about all that Broadway has to offer this growing and vibrant community.

Specific plans include media and education initiatives, as well as conducting workshops and other programs to help augment and develop career opportunities for Latinos within the Latino community.

Viva Broadway is a program of The Broadway League.
Visit Broadway.org for more information.
Get Broadway show information in Spanish
Información sobre los espectáculos de Broadway en español